Pictured above is the 1918 Football Team, Courtesy of The Ohio State University Photo Archives, Athletic Collection.
History shows why 2020 will be a historic year for Ohio State football
It has been well over a century since Columbus, Ohio, has had an autumn without an Ohio State football game.
"I thought the sun would come up in the west before the Big Ten would cancel football," notes historian and 97.1 The Fan radio commentator Jack Park of the league's decision to shut things down until at least January amid the COVID-19 pandemic.
His shock is natural, given what he knows.
One of the five books Park has authored, The Official Ohio State Football Encyclopedia, records how students needed to make contributions to buy a "real" football prior to the school's very first game, but from that May 3, 1890 kickoff to the present, the Buckeyes have persevered through multiple calamities and still made it on the field for fall football—until now.
In 1901, amidst a furious debate about whether the sport was too violent, Ohio State played–even after John Sigrist died of injuries suffered on the field. Sigrist's younger brother, Charles, remained in the lineup. In fact, he delivered the speech that convinced the team to continue.
When a pandemic raged and World War I was being fought in 1918, Big Ten teams were limited to only one overnight trip for the season. Ohio State's campus was shut down for around a month starting in mid-October due to the Spanish Flu. The school closed on a Friday. The Buckeyes beat Dennison the next day, 34-0, with health officials figuring being outdoors would prevent transmission of the disease.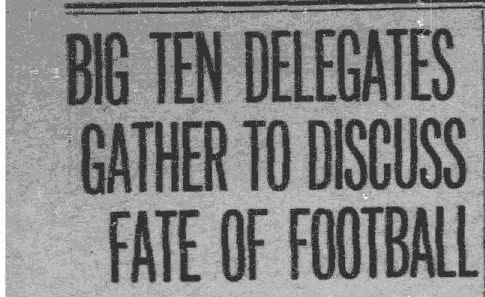 The closing did end up pushing back the game against Michigan to the last day of November, but still, they played. OSU lost that contest 14-0 to finish 3-3.
The Great Depression from 1929 to 1933 forced Americans to make tough decisions on what was economically necessary, and attendance took a hit, but football was considered necessary enough to continue.
Most Ohio schools failed to field teams in 1943 as they lost players to military service in World War II. At the end of the 1943 season, legendary coach Paul Brown was drafted into the Navy. The man who replaced him, Carroll Widdoes, took over the team even as his missionary parents were prisoners of the Japanese. Widdoes won a conference title in his first season.
In 1961, when 28 faculty members decided to fight the growing commercialism of the sport by voting against the Buckeyes going to the Rose Bowl, The Columbus Dispatch printed their names, salaries, and addresses—leading to the harassment of these professors for costing the team just this one, single game.
"The students made a march to the Statehouse, and they came back and held a huge rally on campus wanting them to reverse the decision," said Park.
In 2001, just days after the 9/11 terrorist attack, a different kind of unity rally was held at Ohio Stadium—there was no game, only mourning.. However, by Sept. 22, the Scarlet and Gray were back in action on the field.
If the idea of a fall without Ohio State football seems so unthinkable, it's because for so many years, it has been. Sadly, assuming nothing changes, the 2020 Buckeye squad will be making history in a year when they had the potential to leave their mark in an entirely different way.
They were ranked No. 2 behind Clemson in the preseason Coaches Poll.
"Feel bad for all the players and teams who are losing their season," wrote Yahoo! Sports college football reporter Dan Wetzel. "However, really thought Ohio State was loaded this year and could've won it all."
NFL Draft analyst and founder of New Era Scouting Matt Miller agreed. "This is the best Ohio State team I've seen in my career," he said.
Quarterback Justin Fields, who had been a Heisman finalist in 2019, was going to lead the team. Projected first-round NFL Draft picks Ohio State offensive lineman Wyatt Davis and defensive back Shaun Wade were among those voted captains this year.
"This team is special," lamented coach Ryan Day. "It's special because it's talented, it's special because it has leadership, it's special because of the character. It could have been a once-in-a-lifetime team.
"There was just something about this team that had 'it.' They had 'it.' They came back hungry after their last game on the field. They were determined, and this quarantine, this virus, was not going to get in their way."
On Aug. 11, the Big Ten decided otherwise, confirming its initial no-go decision despite player, parent, and coaches protests.
"It became abundantly clear that there was too much uncertainty regarding potential medical risks to allow our student-athletes to compete this fall," Big Ten Commissioner Kevin Warren announced in a news release.
Day has made it clear he supported delaying the start of the season for a few weeks, but this move by the Big Ten went farther than he would have liked.
Day was asked in a subsequent press conference if he ever looked at the big picture. Did he consider how unique the challenge that he, his team, his community have been facing? A reporter—specifically this reporter—pointed out it was a very different test than playing Michigan.
"It's 'team up north.' Please, don't use that word," Day gently corrected, because even in unprecedented seasons, there are some things that simply don't change.