PHOTOS BY LORI SCHMIDT
There was no football game and won't be for a while, but there was a crowd Saturday at Ohio Stadium. Parents of Buckeye football players gathered there to demand more transparency when it comes to the Big Ten's decision to postpone fall sports. 
"Ultimately, I think the first thing that we would like to see is what happened? We still don't know if there was a vote, who voted, or anything like that," said Amanda Babb, president of Football Parents at Ohio State and mother of Kamryn Babb. "What's it going to look like moving forward? I think all of that needs to be laid out."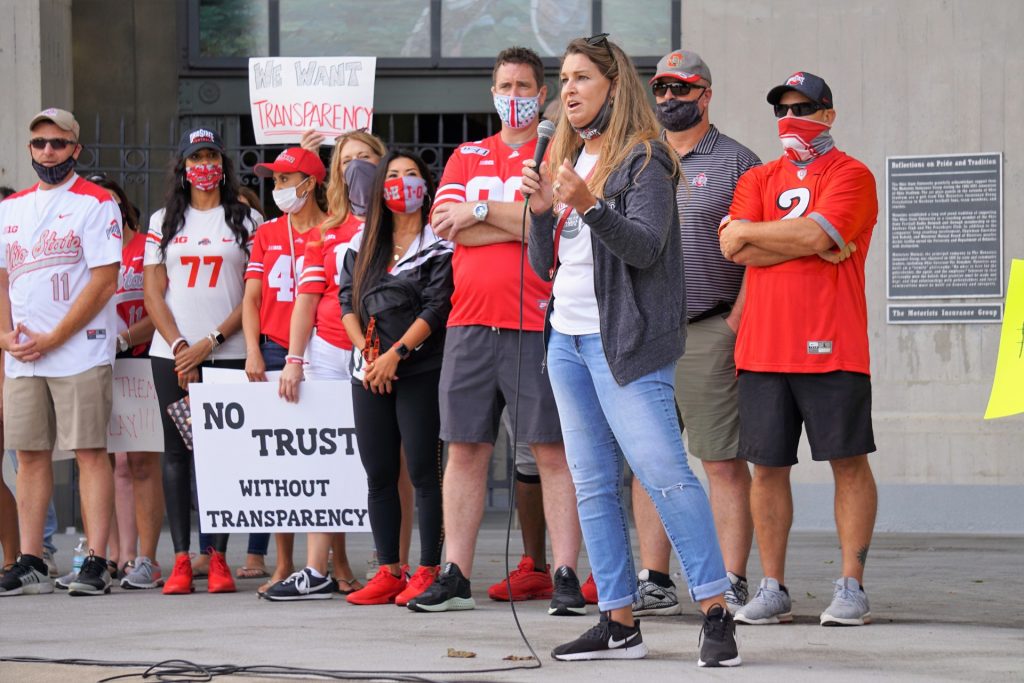 At least a couple hundred fans, some from as far away as Texas showed up to hear the members of FPAOS speak. Those speakers would praise Ohio State's handling of the situation, while strongly criticizing the league.
That being said, Randy Wade, the organizer of the event and father of defensive back Shaun Wade, requested that their organization be allowed to speak to school president Kristina Johnson.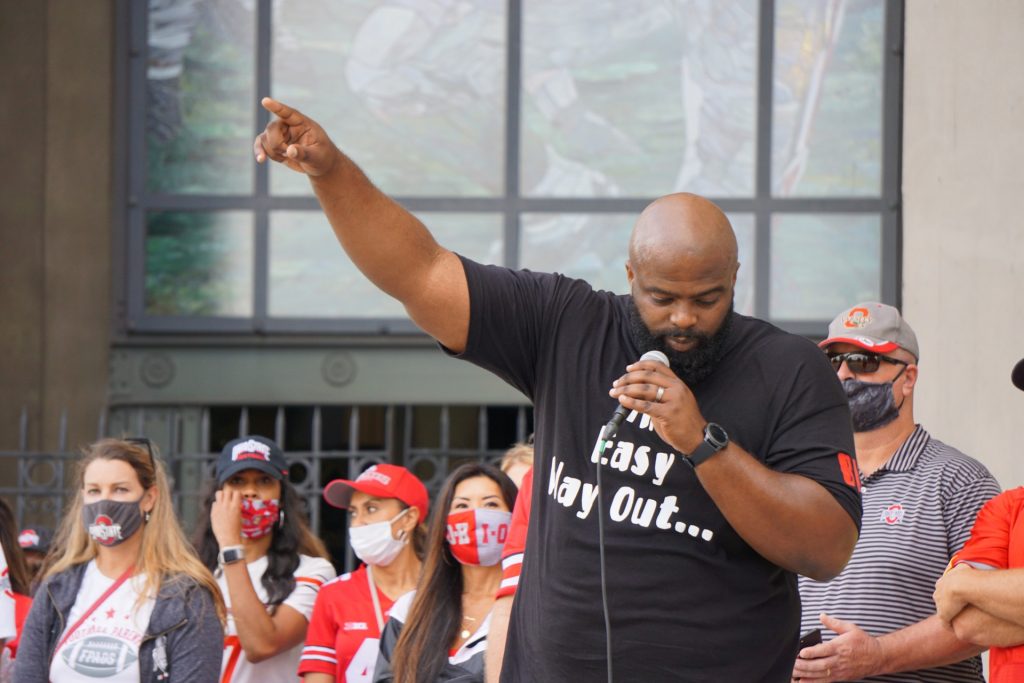 "We know Ohio State has done everything they could, but we would like to be a catalyst for these other schools," Wade explained. "If we can talk to our president, they should be able to talk to their president."
Even more than that, the group would like to hear from Big Ten commissioner Kevin Warren. According to Babb, the last time that happened was when Warren issued an open letter Aug. 19.
Regardless of whether Warren responds, members of FPAOS hope to learn more by Monday evening. That's the deadline a county district court judge from Nebraska delivered for the Big Ten to provide a written answer to a lawsuit filed by eight players from Nebraska's football team.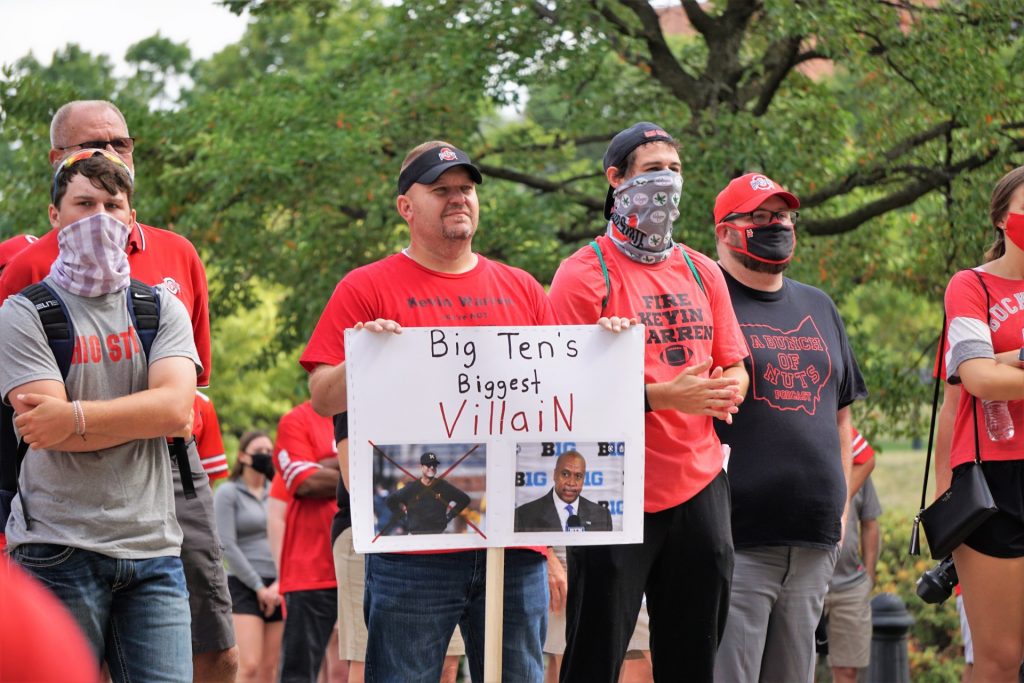 Babb acknowledged that there has been some discussion about taking similar action. "I wouldn't say it was anything through the FPAOS board, but just some parents have talked about maybe we should follow suit with Nebraska as well."
She also joined with several parents who said that if the league is considering plans to restart play around Thanksgiving, as recent reports indicate, then it should be feasible to kick off earlier and be able to compete for the national championship.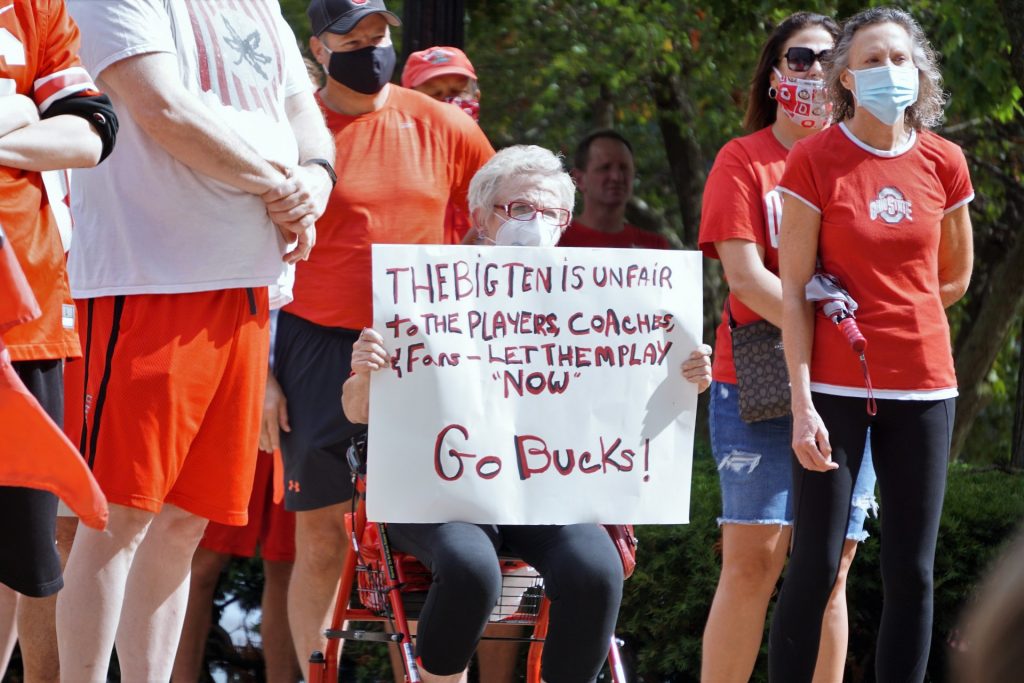 "And we can win that thing," she told fans, before engaging them in an O-H-I-O chant.
Before competing, though, Babb wants assurances that OSU's players will be kept safe. She said it should be a prerequisite that all Big Ten teams adopt the COVID-19 prevention guidelines the Buckeyes have in place.
"This is why we continue to ask for the transparency. If we were to play a season, what would that look like as far as testing protocols and things like that, and we just haven't gotten those answers yet," said Babb.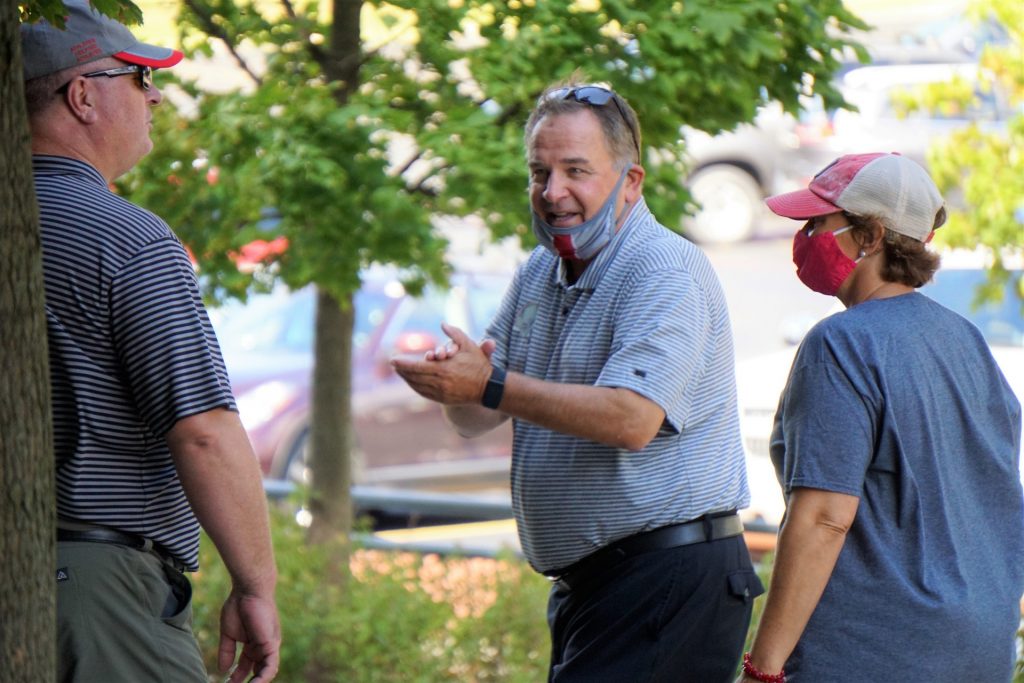 "We don't want our sons on the field with teams that aren't doing what they're supposed to do," agreed Dr. Corey Teague, whose son is running back Master Teague.
See highlights from the parents rally below.